For health professionals
Case study: Nurse of the Year: Louise Knell
Louise, a nurse at the Royal Women's hospital shares her thoughts on the importance of nurses and how it felt to be crowned 'Nurse of the Year'.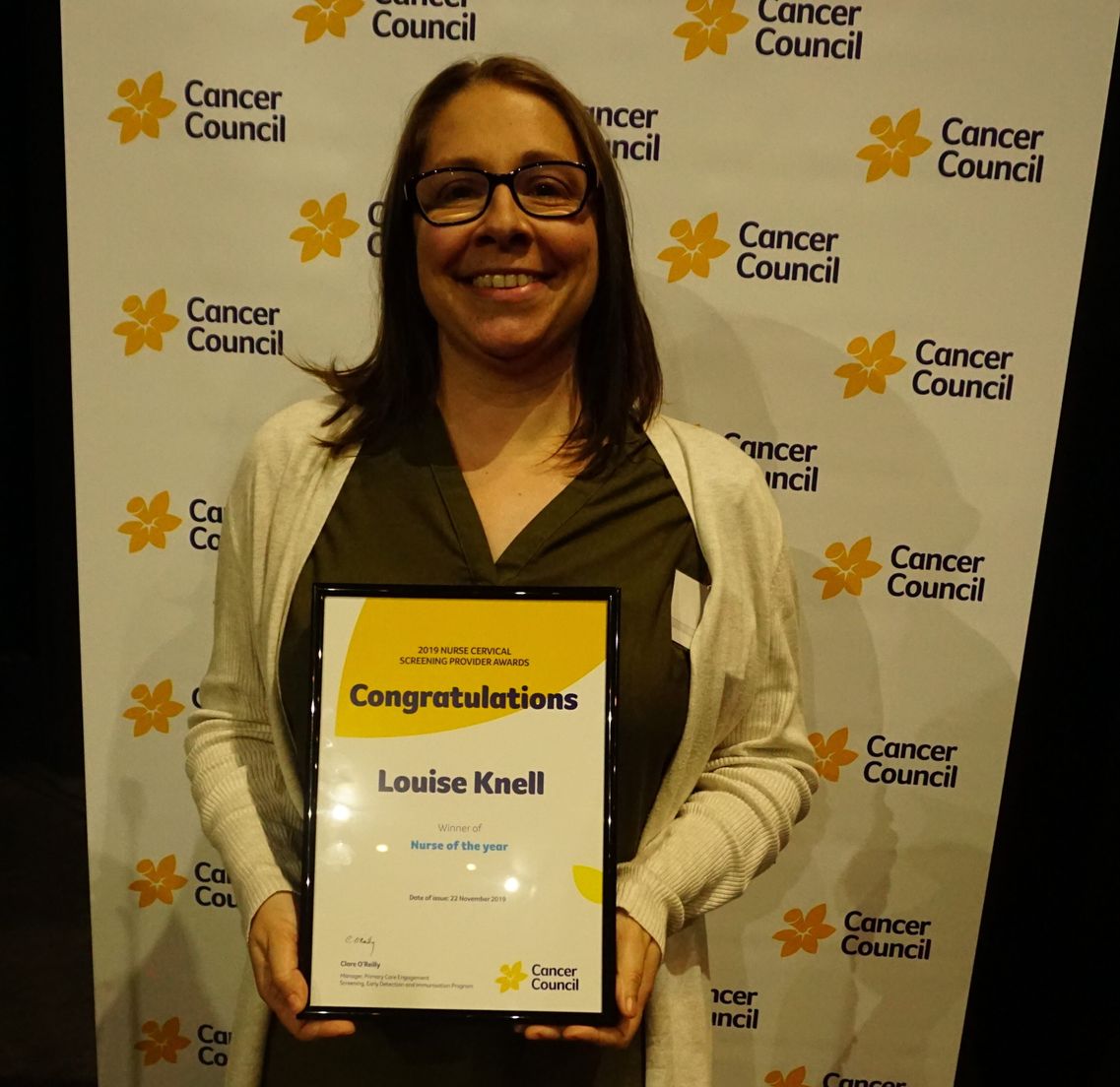 About me
I moved to Australia the day before Black Saturday 2009, with my husband. We have two children. Diagnosed with breast cancer at the age of 33. A 6-year survivor, I volunteered as the president of The Northern Breast Cancer Support Group, and now I am the proud Cub Scout Leader of 1st Doreen. Needless to say I love the outdoors… just not the cold!
Trained and qualified in the UK. Nursing for 20 years. Experience in agency, community, mental health, surgical, medical, care of the elderly and penultimately gynaecology and women's health in which I currently work.
Currently I work at the Royal Women's Hospital, in the dysplasia unit. I am also the volunteer coordinator, for The Bridge of Support program (Counterpart, Women's Health Victoria), at Western Health. This is a peer support program for women going through breast or gynaecological cancer treatment; bridging the gap between hospital and community.
Why are nurses so important in encouraging cancer screening?
Nurses are a pivotal part of the health team as a whole. Cancer screening is one part of our role which is imperative to communicate with our communities. The communication of a nurse does tend to be less daunting and more understood, than some of our colleagues; as has been my experience in hospital and community settings. We tend to use less scientific wording and more plain English, with aids such as pictures and comparable understood stories to get the message across to the mainstream, as well as our culturally and linguistically diverse communities.
Cancer screening is there to prevent the spread of a cancer, diagnose early and provide the information for treatment if required. It gives control to the person, and their own health. The positive screening information that nurses give to our patients is varied, and very individual. We tend to have more time to explain, and take questions if people are unsure. Encouraging people at different life stages is essential; and the nurse is there at all of these milestones.
What are your top tips to other nurses to engage patients in the National Screening Programs?
Know the basics! What are the programs? What ages are people eligible?
Listen to your patients; if they start talking about a subject that can be related.
Have prompts around the practice - that poster in the waiting area, an alert setting on your computer program or (for technophobes like me) a post-it note on your computer can be all it takes to start a conversation.
If you don't know, don't worry, just ensure you have details of where to find the info. For example, colleagues, patient leaflets, health professional leaflets, telephone numbers and Cancer Council Victoria's Cancer Screening Hub.
As mentioned before, empower your patients.
Tell us about your work with under-screened community groups.
As a practice nurse in the Outer Northern suburbs of Melbourne, some of our patient population is from culturally and linguistically diverse communities. My aim locally is to try and break down barriers with language and taboos. Promoting that cancer screening is a way of life here in Australia; and many people are eligible for free, to take control of your health and future. Promoting from older generations through to younger generations, and vice-versa, has also been a key in education.
Working with the Breast Cancer team from Western Health has shown me there are many promotional packs for under-screened community groups, you just need to know where to look, or who to ask. My current job at the Royal Women's Dysplasia Unit has been my passion for the last 10 years. Seeing the number of women who have abnormal cervical screening, proves to me that screening has so many benefits; and it's amazing that every person we see has taken that one step into making their health their priority. I feel that my job is done when somebody who doesn't understand, leaves my clinic knowing in their own way what dysplasia is, what procedures they have had done, what the potential outcomes are, and giving the facts about the HPV vaccination. The majority leave with a smile on their face and the knowledge to go and educate their family and friends of the importance of cancer screening.
Are there any resources which you find useful when working with these under-screened groups?
Interpreters are great, if you have access to them face-to-face all the better, if not via a telephone interpreter service. Many patient leaflets are now manufactured in different languages and even braille. The majority of resources I utilise are from larger-known organisations such as Cancer Council, BreastScreen Victoria, BCNA and Victorian Cytology service. I do find that to ascertain the right moment to introduce your patients to information is as important as the information itself.
How do you feel about being crowned 'Nurse of the Year'? What were your highlights of this year?
For those that were at the Personal Development Day in Melbourne when my name was full screen in the cinema… WOW! I honestly was gobsmacked. There was a few of us (nurses) that were joking about if I did win, because I had not prepared a speech or anything. I really was taken aback, so happy, so excited and so proud. After Sandy Anderson reading aloud the nominations from Dr Geraldine Edgley and Nurse Marie Jones, it really made me think how much nurses like myself really do make a difference. The highlights for me this year have been, being able to educate local GP's about the new cervical screening guidelines; and ultimately the favourite part of my week, every Friday afternoon when I get to meet a gamete of people in a nurse led clinic; educating, listening and doing practical examinations.