Culturally and linguistically diverse communities
Case study: Celebrating the fruitful partnership between Cancer Council and Arabic Welfare
In this case study we look at the partnership between Arabic Welfare Inc and Cancer Council Victoria in communicating cancer screening information.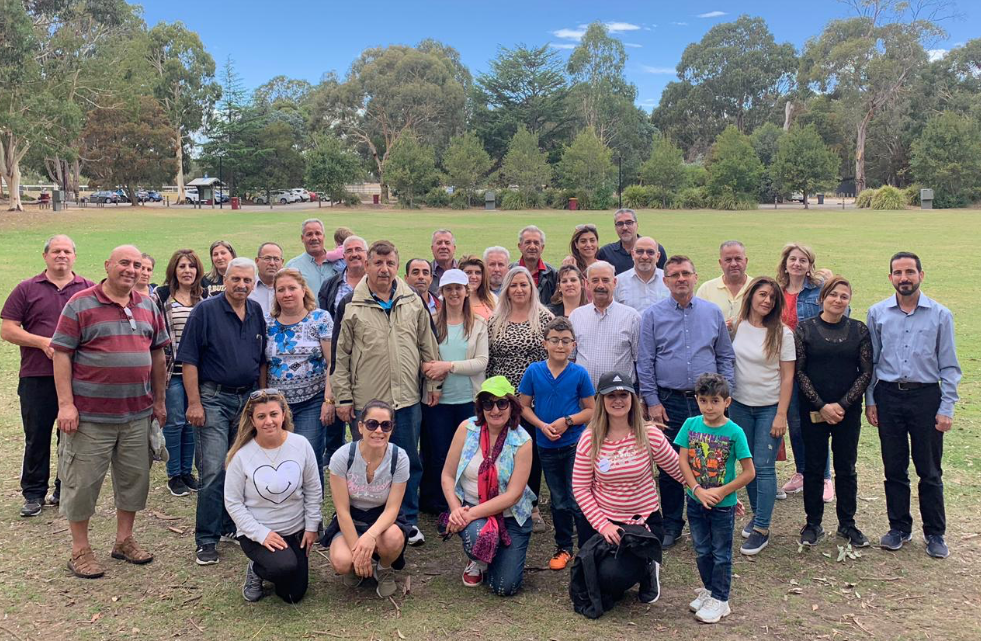 The relationship between Cancer Council Victoria and Arabic Welfare has been a vital pathway for the communication of cancer screening information to the Victorian Arabic-speaking community since 2014.
It all started when Cancer Council Victoria invited Arabic Welfare, among other Humanitarian settlement services providers, to take part in a project that aimed to educate and build the capacity of these providers to deliver cervical and breast information to newly arrived women.
Since Arabic Welfare has become a reliable partner of Cancer Council Victoria when trying to reach the Arabic-speaking community in Victoria.
Arabic Welfare was a recipient of the first Cancer Council's small grants program in 2013 for a project to deliver an information session about breast and cervical cancer to Arabic-speaking women.
An important relationship
Arabic Welfare's Simar Amad said the organisation has had a strong rapport among the Victorian Arabic-speaking community for more than 35 years.
"The organisation's staff members also are qualified bilingual and bicultural workers, who are able to provide accurate information and key messages about cancer in a therapeutic manner as well as a culturally appropriate approach," she said.
Over the last nine years Arabic Welfare has received grants from Cancer Council Victoria to deliver education sessions, create resources and navigate community members to participate in screenings.
Some highlights of Arabic Welfare and Cancer Council Victoria partnership include:
Arabic Welfare received three grants to educate their community about cancer screenings. As a result of these grants, a total of 109 Arabic-speaking community members have participated in bowel, cervical and breast screening information sessions.
Twenty-four community members received intensive support to order and/or complete their bowel screening kit on one-to-one basis during the national bowel cancer campaign 2019.
An Arabic women's champions group (consisting of eight women) was established in 2016. Member of the group were trained by Cancer Council Victoria and consulted on the best approach to create awareness about bowel screening among their community members. The group suggested that developing a short in-language animated video would be a good approach.
Cancer Council and Arabic Welfare co-developed and produced an animation video clip featuring comedian Akmal Saleh in 2017 to promote cancer screening to the Arabic-speaking community.
Eleven women were trained as peer educators in the Ophelia project to reach Arabic women, educate them and encourage them to do breast screening. These peer educators were able to reach 152 women from the community and seven of these women completed their mammogram.
Arabic Welfare featured in Cancer Council Victoria's Power video. The video featured five community leaders and health professionals from the Arabic speaking community, encouraging their members to do the bowel testing kit.
All these achievements and projects faced the challenge of navigating the cancer stigma experienced by the Arabic-speaking community in Victoria.
"People usually refuse to mention the word cancer and instead refer to it as 'the disease'," Ms Amad said.
"Some people even relate getting cancer to a god's punishment for their deeds. Many also prefer to face the stigma with denial by saying that they are okay right now and they don't want to know about their cancer and open closed doors."
Ms Amad said lack of English language also limited Arabic-speaking Victorians from getting enough information about cancer, its prevention, treatment, and the services they can link up with.
"They usually find difficulties in understanding how to screen for the various types of cancer and how to navigate the available healthcare services in Victoria," she said.
Cancer Council Victoria and Arabic Welfare collaborated to address these barriers through activities and workshops that included information about bowel, cervical and breast cancer; discussions about the cultural sensitivity of the word "cancer", and where to go for cancer screening.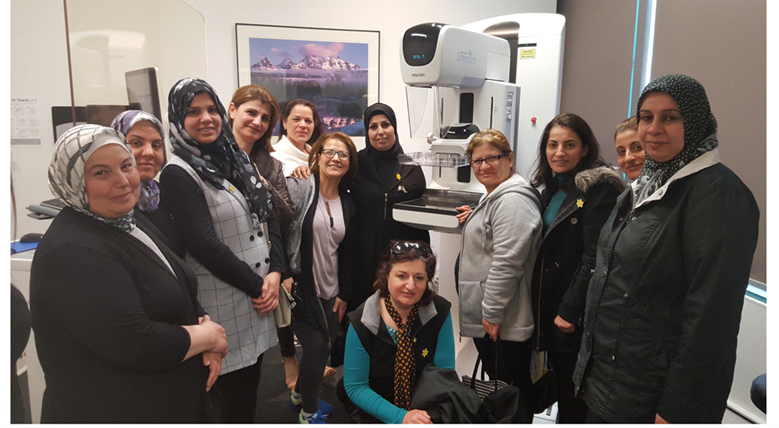 The two organisations also arranged for Arabic-speaking women to have their first visits to cervical screening clinics and breast cancer testing centres.
The Cancer Council Victoria and Arabic Welfare partnership has also resulted in many interactive bowel cancer workshops with workshops encouraging community members to spread the message to people in their community.
Arabic Welfare noticed that most of its clients didn't receive the bowel testing kit at their homes, mainly because they are moving houses frequently.
Therefore, as part of the bowel cancer campaign 2019, the partnership was able to support 23 community members to update their addresses with Medicare and request a replacement bowel testing kit, fill in the bowel screening participation form and have a one-to-one explanation on how to do the kit.
"The partnership is successful in giving a voice to the Arabic-speaking community members and getting them to be more active not only on screening for cancer for themselves and their beloved ones but for the community around them," Ms Amad said.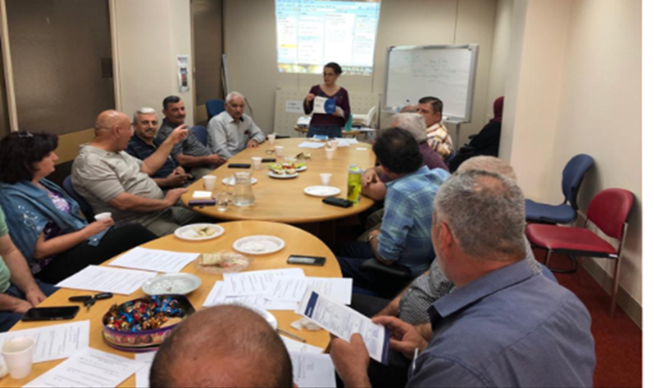 An animated look at cancer screenings

A discussion session for peer educators organised by Arabic Welfare, highlighted the importance of the social media to encourage the Arabic-speaking community to do cancer screenings. They suggested creating a fun animated video that they could be shared through YouTube and other social media outlets.
Featuring famous Australian-Egyptian Arabic comedian Akmal Saleh, the animated video touches on the cancer taboo among the Arabic-speaking community and encourages Arabic-speaking community members to do bowel, cervical and breast screenings. Cancer Council Victoria has used the animation in many of its campaigns in following years.
How the Cancer Council Victoria and Arabic Welfare partnership saved Dr Ali Abdalla's life
When Iraqi refugee Dr Ali Abdalla arrived in Australia with his family to start a new life, he linked himself with Arabic Welfare to keep in touch with the Arabic speaking community in Victoria.
Arabic Welfare contacted him to join them for a two-days health information session and Dr Abdalla was astonished with the information he received about early detection of bowel cancer in his stool, he went straight to his GP and asked about the government's free bowel cancer testing kit.
Concerned about his bowel health, Dr Abdalla went to a specialist clinic for a colonoscopy, during which a number of polyps were discovered. Thankfully they were benign tumours which were removed.
Dr Abdalla said he was lucky to have been linked up with Arabic Welfare's services and had attended its cancer information sessions.
As a bowel cancer survivor, Dr Abdalla is now a bowel cancer community champion and shares his cancer experience during information sessions for Arabic-speaking community members. He has advocated and convinced many people to do the bowel testing kit and he is also checking the community's feedback on the problems that are stopping them from doing cancer screening.
Dr Abdalla has also stressed on the need for GPs to keep their patients well-informed about bowel cancer and the bowel testing kit. He also explained that newly arrived communities couldn't clearly differentiate between the Centrelink and Medicare services. Hence, newly arriving families might forget to inform Medicare when they change their addresses and will miss their chances of getting the bowel testing kit on time.
Looking ahead
The Cancer Council Victoria and Arabic Welfare partnership still has a lot of work to do to keep the community well-informed about cancer screening and health services.
Cancer Council Victoria has a well-established primary care team that works with GPs and nurses to increase their knowledge and awareness about bowel, cervical and breast cancer.
The two organisations are working together to make sure any Arabic resources are culturally appropriate and sensitive.
Cancer Council Victoria will continue upskilling community organisations like Arabic Welfare with updated information about various types of cancer and will make sure the learnings from this valuable partnership are duplicated with other multicultural community organisations to make a change in the knowledge and screening levels among their members.
The start and importance of the Cancer Council and Arabic Welfare partnership
Significant success stories of the partnership
Outcomes of the partnership and the way forward